Institutional
Hospitals, clinics, laboratories and residential healthcare facilities must deal with unique — and uniquely sensitive — issues that can be assessed effectively only by professionals who wield a specialized set of skills. In addition, each client has different needs and circumstances that influence how its facilities issues should be approached.
Lockatong's engineers are active members of ASHE and participate regularly in local chapters' activities. Even better, we learn from the engineers and managers responsible for institutional facilities how we can better apply our own engineering expertise to solve their problems.
Lockatong's professionals are fully qualified to analyze the condition of the facility and its systems, assess a variety of risks, diagnose problems or defects, recommend a solution, design modifications to improve functionality, upgrade to meet new requirements or correct deficiencies — all to institutional standards.
Serving NJ NY PA
---
The NJDEP Division of Air Quality has announced new General Permits:
GP-017A for "Boiler(s) and/or Heater(s) each less than 5 MMBtu/hr"

GP-018A for "Boiler(s) and/or Heater(s) each greater than or equal to 5 MMBtu/hr and less than 10 MMBTU/hr"
These General Permits are replacing the current General Permits GP-017 and GP-018. If you currently have either of these permits, the NJDEP will automatically terminate the permit upon expiration.  It cannot be renewed.  You will need to submit a permit application to obtain the new version of these permits, GP-017A and GP-018A. This application needs to be completed and submitted through the NJDEP online website.

Also, just a reminder that any old GP-005 permits for emergency generators should have been revised to the GP-005A for diesel generators and GP-005B for natural gas generators, since they automatically terminate as well. Those revised permits were released in 2014/2015.
If you have any questions regarding this matter, please feel free to reach out to 
Tricia Romano, P.E.
 at 
TLR@lockatong.com
.
---
In May 2017, the NJDEP released a Notice of Rule Proposal for Underground Storage Tanks (UST), N.J.A.C. 7:14B, Water Pollution Control Act, N.J.A.C. 7:14, and Administrative Requirements for the Remediation of Contaminated Sites, N.J.A.C. 7:26C.  This Rule affects all healthcare facilities.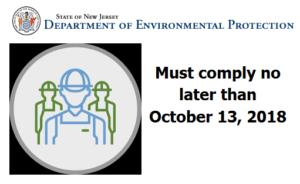 The proposed new rules and amendments relate to secondary containment; operator training, designation and duties; partially regulated UST systems; field constructed tanks and airport hydrant systems; operation and maintenance walkthrough inspections; UST registration; notification; UST service provider; certifications; and civil administrative penalties.
The proposed rules apply to tanks that store motor fuel; liquid petroleum products; waste oil; all heating oil tanks of 2,001 gallons or more; or other hazardous substances for on-site consumption at businesses or commercial operations.
The new rules require owners and operators to comply with the new regulations no later than October 13, 2018; this includes the new requirement of having Licensed Operators at the facility. To be a licensed operator, you must attend a class at Rutgers University administered by the NJDEP and pass an ICC examination.  Click here for a Rutgers University FAQ sheet.
---
"Lockatong Engineering has been providing consulting services to the Bergen Regional Medical Center for the last 9 years, including in the areas of building and equipment inspections , facility engineering , environmental evaluations, and remedial plans, etc. Prior to this, Lockatong Engineering had provided consulting services to the Robert Wood Johnson University Hospital in New Brunswick, NJ for an extended period of time. All work was comprehensive, relevant and of the highest quality. They facilitate us, interfacing with the various regulatory agencies, preparing the necessary documentation and filing with the agencies that resulted in conforming with the various regulations and administrative ordinances and laws.
The Lockatong staff is providing service in a highly professional manner based on their expertise and experience in the various specialized fields. I recommend Lockatong Engineering for any assignment in their field."
Herman Lindenbaum, Vice President, Support Services
"Lockatong Engineering has been an invaluable partner at St. Mary's.  They are Healthcare friendly and have not only developed a scope of work for many of our projects, but they have also worked with the hospital preparing site surveys and all related documents. I am very happy to call them a partner in many of our endeavors."  
Benedict DiFranco, CHFM, SASHE, Director of Facilities & Security
"Luck has it that we can never find regulatory documents when an inspector requests them but Tricia and the Lockatong team always come through with back up copies."
Ed Grogan, Director of Plant and Engineering, Jersey City Medical Center